Death of the actress Andrée Damant, lover of Lozère and Vébron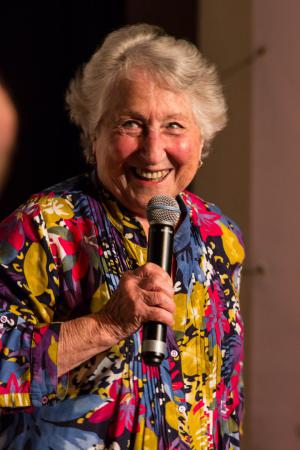 The actress with a very popular face had notably played in "Scènes de ménages" on M6 where she interpreted the role of Tata Odette, or in "Plus belle la vie" on France 3, in the role of Julienne Vidal, an elderly person that Benoit Cassagne looked after. She had worked with some of the greatest names in cinema, such as Jean-Pierre Jeunet in "Le Fabuleux destin d'Amélie Poulain". She was also a theatre actress and had performed in 11 plays. A southern figure par excellence with a lovely, pronounced southern accent, she starred with Yves Robert in "La Gloire de mon père". For television she appeared in about fifty TV films and series, such as "Les grandes marées", a great summer saga, as well as "Dans un grand vent de fleurs", "Victoire" and "La douleur des femmes". Alongside Alain Delon in the series "Fabio Montale" and in TV films such as "Le temps des secrets et le temps des amours" on France 3 or "Le secret d'Elise" on TF1. 
In 1971 she made her first film with director Nadine Trintignant, "Ça n'arrive qu'aux autres", and went on to make more than 50 films for the cinema, the last of which will be released in 2023, "Forever", directed by the Franco-Egyptian actor Aytel Jensen, for which she had just finished shooting.
Andrée Damant was born on 20 September 1929 in Avignon where she regularly visited her sister. Her brother owned a house in Fraissinet de Lozère where she regularly went to recharge her batteries. She came four times to the International Film Festival of Vébron, which she had known thanks to her friend, the Cévennes actress Bernadette Lafont, who was also her next-door neighbour in the Marais district of Paris. She had been President of the Jury, and had returned three times to give readings, notably of letters written to her by Bernadette Lafont.
Andrée Damant died in Paris on Tuesday 6 December at the age of 93. José Joilan and Michel Benoit, President and Vice-President of the Association, said: "The Vébron Film Festival has just lost its grandmother. She loved the Festival team, the village and the encounters she had there. Vébron was a haven of peace for her. She helped us many times by opening her address book to invite this or that artist to the Festival. In 2023, we will pay tribute to her.
For the Mayor of the village, Alain Argilier, "Andrée Damant was a talented actress with whom I shared some very good times. Always sparkling, sunny, radiant, her smile and kindness will be missed at the Festival. When she came to Vébron she stayed at our house and we became real friends. We would always go to Bernadette Lafont's grave in the Cévennes, where we would talk for a long time, sometimes surrounded by other friends like the actor and director Lucien Jean-Baptiste. We are so saddened today by her death. Translated with www.DeepL.com/Translator (free version)